Skip Hire
Lovatt Brothers
are specialists in Skip hire and can provide skips of various sizes ranging from 2 - 20 cubic yard for commercial, industrial and domestic use for long or short term hire.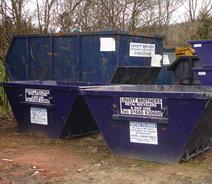 The rates for our skip hire are highly competitive.
We are a licensed waste transfer facility able to recycle and dispose of your waste in accordance with current environmental regulations.
Skips for certain types of Hazardous Waste available, please call with your requirements.
For more information on why you should use
Lovatt Brothers
for skip hire and what else we have to offer, please contact us on 01686 630 600, or
click here
for email contact.
For more information on our range of available skips for hire and important usage information, click
here